The Uncertainty of Maps, Poems by Nina Corwin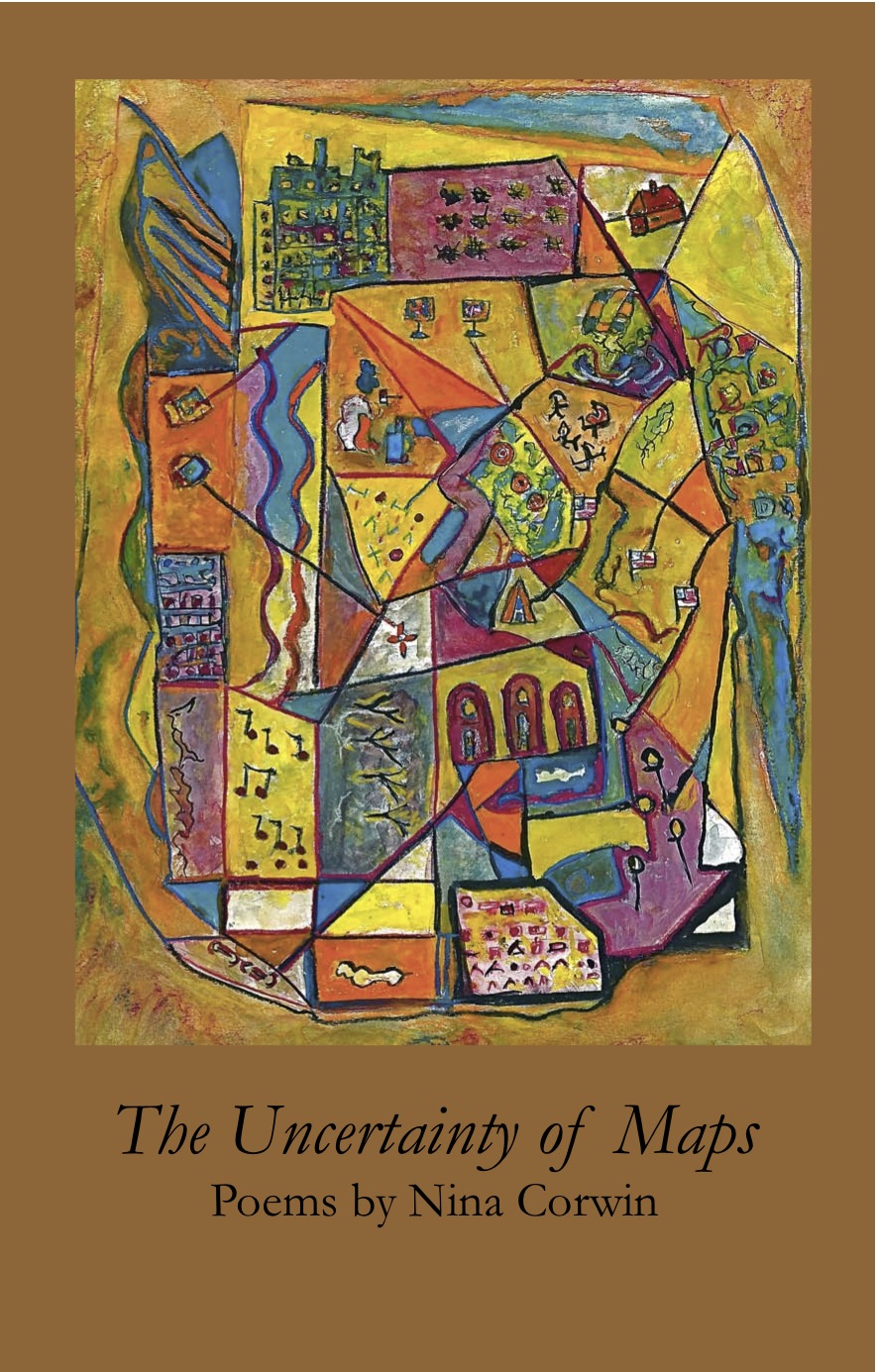 With wit, warmth and intelligence, the poems in Nina Corwin's The Uncertainty of Maps embrace the foibles and limitations of humankind as it struggles to navigate life's uncertain terrain.
"I love the witty, rich, urban music of Nina Corwin's poems, her blazingly inclusive lines that allow the world and her savvy perceptions of it to come rushing in. The top-notch, affecting opening poem, 'Irregulars' is a hard-won hymn to imperfection. 'Implacably human,' crackling, and alive, her sane and often humorous work is a wonder!"—Cyrus Cassells
"Nina Corwin's other selves—as psychotherapist, teacher and performer—are wrought to fine distillation in her work as a poet. Her descriptions are memorable, even remarkable; say having never quite thought about Manhattan in the way she does, it's impossible to unimagine! By turns wise and with it, polysemous and playful, her poems are beautifully shaped like 'A Matter of Opinion,' full of pathos and poignancy like 'The Stutterer,' or pitch perfect like 'But Silently,' allowing a formal and conceptual inventiveness to lead the imagination to unexpected places.  On and off the page, her oxidized words continue to pulse, to give life."—Ravi Shankar
"Early in a new century, humanity is re-digesting its ancient assumptions, chewing the cud of the idea of its own nature. Our poetry is more indispensable than ever, and more ignored. And yet in the hands of such writers as Nina Corwin, it may be the best instrument we have for taking our own temperature, removing our own appendix. Corwin is a genial poet of nightmare. Savvy almost but not quite to the point of implosion, her poems make easy work of the attitudes intrinsic to our so-called 'postmodernism' but is far from being bewitched by them. This work is fundamentally about 'Life with its imperfect science, the winking / of uncertain stars,' but has room for a fey God 'reaching his long peachy finger out of the clouds,' and 'an old saxophone stooped with osteoporosis [that] stops me on the road. While there are surreal elements here, and many an adept nonlinear maneuver, the poems in The Uncertainty of Maps eschew nothing, not even the most devastating moments of clarity. They are resolutely old-fashioned while being completely new, and they sing 'like Pete Seeger sings, / If I had a hammer, I'd hammer out danger. / But he has no hammer, so he keeps on singing.'"—T.R. Hummer
Nina Corwin is the author of one previous book of poetry, Conversations With Friendly Demons and Tainted Saints. Nominated for the 2008 Pushcart Prize, her poetry has appeared in numerous publications, including ACM, Forklift, Hotel Amerika, New Ohio Review/nor, Poetry East, Southern Poetry Review and Verse. Corwin is an Advisory Editor for Fifth Wednesday Journal and co-edited the anthology Inhabiting the Body: A Collection of Poetry and Art By Women. She has performed her work across the country, regularly collaborating with musicians, dancers and other poets. Corwin lives in Chicago, where she is a practicing psychotherapist known for her work on behalf of victims of violence.
ISBN: 978-1936370283, 108 pages