Canticle of Idols, Poems by Raina J. León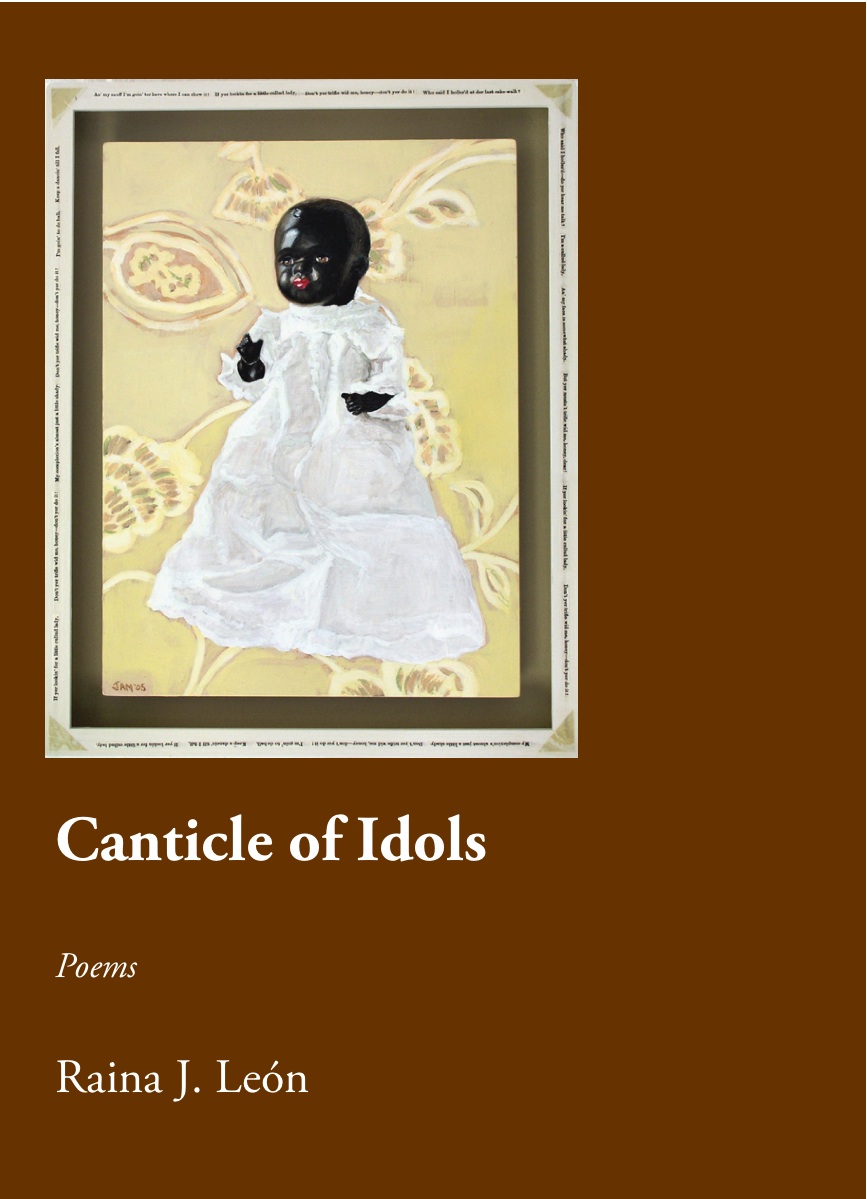 In the fearless poems of Raina J. León's Canticle of Idols, physical and spiritual yearnings are inseparable and, in the end, indistinguishable.
"Raina León is a fiery and courageous poet. The poems in this, her first collection, are explosions of pain and transcendence, jagged epiphanies, surreal, haunting, erotic and anguished by turns. Whether challenging Catholic orthodoxy or celebrating her Afro-Puerto Rican legacy, remembering the struggles of an addict or the touch of a lover, León's poetry sings hymns to life in the midst of death. Listen."—Martín Espada, author of The Republic of Poetry and Alabanza: New and Selected Poems 1982-2002
"There is something of Eden adhering to any first book. Raina León brings us lyric reports from a place where Adam the name-giver meets Juana la Loca:. 'what's your name / the ones who know are dead'. Readers can only hope that she is able to keep some of that moist earth visible around her roots. She'll need it. We'll need it. 'Sculptors chisled my feet / on the Devil's neck,' she writes. That would be the devil we know. What we don't yet know, she just might help us learn."—A.L. Nielsen, first winner of the Larry Neal Award and author of Heat Strings and Reading Race
"Here is the work of a poet who possesses the graceful sensuality of dusk & the unflinching eye of the butcher. One senses here that León is committed to pulling back the red curtains of our historical, familial, cultural mythologies, & rendering what is found there into deep song. The result is a landscape of lyrical acuity fueled by a myriad of languages, characters, & centers. These poems give us the voice of The Marys, the sister, abuela 'Buela, the lovers. In León, you have an Orpheic poet who dives into the underworld of every thing—& comes back with the news."—Aracelis Girmay, author of Teeth
"What wonderful ideas and moods a keen, artistic observer provides. Raina León writes with a sense of grace and awareness of details that magnifies with elegant clarity. Through the lens of her verses, those seemingly small things appear larger, more pronounced; here, what was distant becomes close, closer. Hers is a poetic voice that deserves our attention."—Howard Rambsy II, professor and literary critic, Southern Illinois University-Edwardsville
Raina J. León, Cave Canem graduate fellow (2006) and member of the Carolina African American Writers Collective, has been published in African American Review, OCHO, Spindle Magazine, Black Arts Quarterly, Poem.Memoir.Story, Womb, Boxcar Poetry Review, Salt Hill Journal, Xavier Review, MiPoesias, Torch, Poetic Voices without Borders, Gathering Ground: A Reader Celebrating Cave Canem's First Decade, Growing Up Girl: An Anthology of Voices from Marginalized Spaces, AntiMuse, Farmhouse Magazine, Furnace Review, Constellation Magazine and Tiger's Eye Journal among others. Canticle of Idols was a finalist for both the Cave Canem First Book Poetry Prize (2005) and the Andres Montoya Poetry Prize (2006). León has been nominated for a Pushcart Prize. She edits nwal and serves on the board of The Acentos Foundation. She headed the High School Literacy Project at the University of North Carolina and is currently teaching overseas in Germany. She has been honored to receive a number of residencies to foster her work including those to the Vermont Studio Center, the Kimmel Harding Nelson Center for the Arts, the Macdowell Colony, and the Montana Artists Refuge.
ISBN: 978-1934999332, 100 pages, $18.00