Woori, Poems by Robert Ricardo Reese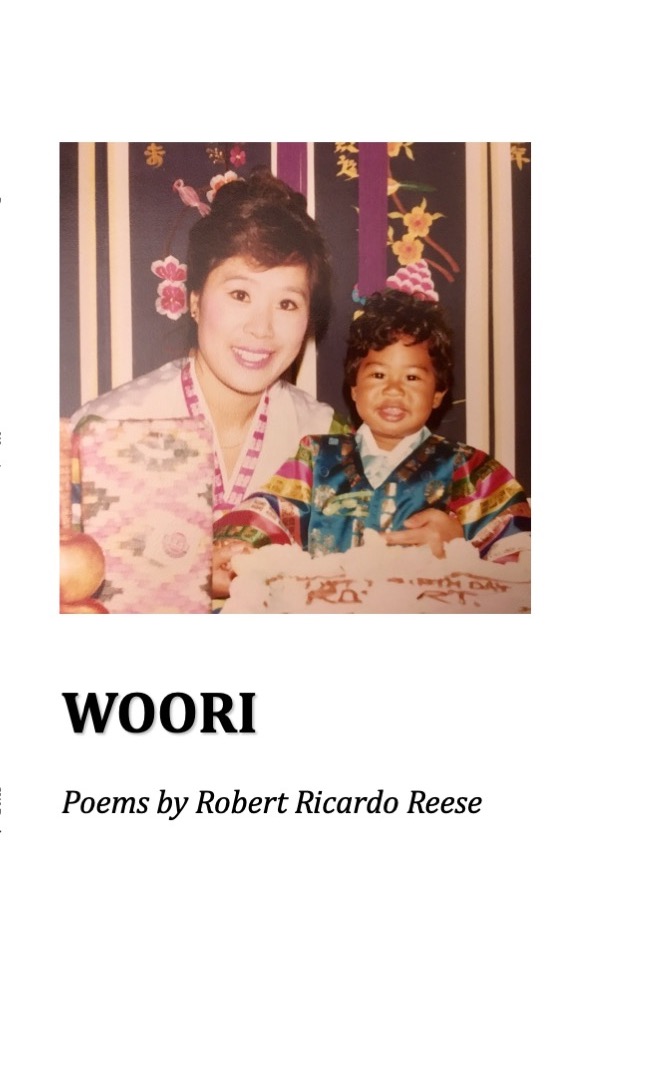 Flashes of landscape, explosions of experience, bursts of memory: these are the lines of rhythm and lines of thought in Robert Reese's powerful collection.
Sample Poetry by Robert Ricardo Reese
"Woori balances examinations of public, geopolitical incidents with deeply personal revelations, reminding readers of the many ways in which we are connected. The book's gripping poems move fluently between the light and the dark, and from them I have learned a great deal about the Korean/American natural, cultural, and geopolitical history as well as poetry's potential to simultaneously teach, touch, and tantalize."-Camille T. Dungy
"Woori is one of very few creative works that describe U.S. military camptown life in Korea during the 1980s. The poems within take us on a journey through the eyes, heart and soul of Robert Ricardo Reese, a mixed Black-Korean man born in Korea who immigrated to the United States with his mother as a child. Through his profound memories, Reese asks us to consider who 'we' is and who 'we' can be, who belongs and who gets to decide. He asks us to question Koreanness and Americaness and to humanize and acknowledge the lives of those in the borderlands of the camptown and immigrants to the United States. His vivid non-fiction poetry expresses the historical, the political, and the systems of oppression experienced by Korean mothers, mixed Korean-Americans, and African American soldiers who forged their own paths and made sense of the world around them.
Reese's integration of other Koreans sets the scene for each of the parts of his book: War, Peace and Human Nature. The most profound quote for me is from President Lee Myung-Bak on sacrifice. "Sacrifice: that's what makes our mosaic so beautiful and rich." Reese's poems urge us to pause, to be in touch with our multi-sensory selves, to hear the sounds of birds, to notice nature, the environment and within it the complexities of life and the sacrifices around us as he travels through his own reconciliation of loss, with all of its violence, war and beauty. In his poem "Mother's Find," Reese captures these themes through a haunting plea from his mother to reconnect with Korea: "I can find us a blessing…Find at least one from Korea." Reese's collection of work powerfully, beautifully and richly expresses the lives and sacrifices of people from the camptowns of Korea."-Dr. Sue-Je Lee Gage
"Robert Ricardo Reese's first book Woori, is a marvelous reflection on identity, history, and love. Out of the Korean War and the many rifts and relocations it produced, Reese ponders the circumstances of his own world, both large and small. As a child born of an African-American GI and the devoted Korean mother that the father deserted, Reese is the inheritor of a powerful and fraught story told in tautly shaped poems, fresh in their invention, heartbreakingly exact. To understand with the depth that Reese does and locate both estrangement and devotion is a feat that language must perform: here are the words used with fervor and due restraint: "the land with the peace bell has sounded the alarm"-and this poet has found his place within the moving parts of this harrowing and tender story." -Maxine Chernoff
"Robert Reese's new poetry collection, Woori, is a true wonder. Here is a poet who writes with striking authority about subjects as big and unwieldy as War, Peace, and Human Nature with an insight and wisdom that belies his age. In less accomplished hands that attempt could result in abstractions and found wanting but with these poems we are close in and come away from moved and enlightened.


Reese has tremendous range as evidenced in poetry that knits together memory, history, the observed and that which is unobservable, providing a poetic documentary of lives, landscape, and spirit. He is adept at rendering multiple histories; global, political, and deeply personal with a voice both candid, and true. In this collection, we find a deep and moving honoring of the past, "There always rises the released tears of ancestors in the tumulus," and a celebration of the present. To call this book a labor of love isn't a cliché. This poet's new book is evidence of the best of a poet's loving labors." -Toni Mirosevich
"Woori, Robert Ricardo Reese's riveting book of thirty-four poems in three sections- War, Peace and Human Nature- is comparable to the successes of poets of place and form such as C.S. Giscombe, Carl Sandburg, Wallace Stevens, and Yusef Komunyakaa. He opens our eyes to a new understanding of Korea with its fractured psycho-social and physical topography, as well as its musicality in the Arirang song, reflecting a people's history of tragic separation and love. From the African-American and Korean mixed-race perspective, Reese deftly examines violence: war, cultural racism, playground brutality, economic survival's humiliations, and shunning. His poems closely observe Korea's natural beauty in the Twelve Thousand Pinnacles of the Geumgangsan Mountains, rice blossoms' confetti, and magpies. These poems travel in time and space through the DMZ, the train by the Imjingang (a lost railway to connect the North and South), on the Seoul Subway, and, to the Jamsil Olympic Stadium and as they navigate from childhood to adulthood, we are graciously allowed to accompany a journey of discovery and reflection."-Kathy Gilbert

"Reading this collection of poems is like visiting history backstage to a divided Korea that seeks a state of woori or its collective self under an uneasy armistice, its "broken aim." Robert Ricardo Reese born in this war-split country to a Korean mother and an African American father makes a pilgrimage to find his identity through the sometimes harrowing, soul-stilling episodes of others who make up the Korean experience spanning 1950-present. We meet people we might know in other places, other times: soldiers watching each other across barbed wire, a fighter pilot crashed on a mountain, a Black lawyer who investigates racial prejudice in the US Army, children at the playground beating up "a monkey," farmers brought down by drought, a beggar man singing on a rusty harmonica, an aunt eyed by a lascivious supervisor, and pop-stars of Korean and African American parentage, once spurned now idolized. Reese is the workman who brings the jade to the bench, who chisels out the capacity of human nature for brutality and hypocrisy to reassure us that, still, the magpie sings and the rose of Sharon blooms as constant as his mother's love. Reese speaks of political division and racial conflict with an uncommon grace of spirit and the surety of firsthand experience that allows hope to spring from the pale green stone, the unity that arises from that which is divided."-Sandra Wassilie
"In Woori, Robert Ricardo Reese captures the dissonance, the division, and the texture of his own identity, writ large. There are the dichotomies of black and Korean, American and not, war and peace; but instead of being one-note songs, extremes to be reached or avoided, these identities set the landscape upon which he draws his sense of the world in exquisite, arresting detail:
"when cataclysm plumes below a bottoming sun/
ravens perch & sit on lines & billboards//
…
the ambulances the sirens echo
echo the black fluttering feathers
falling fumes of emotion"
Through these poems, he has taken the pieces of a familiar narrative and collaged them into something fresh, both raging and placid where 'the canopy of the rose of sharon blooms/in fire.""-Kyla Marshell
"Woori is not a place to play! Robert Ricardo Reese's treatment of place makes every line a journey through the strangely familiar. These poems speak to duality and pride, reality and grace, normality and other-hood. This book does its work in our minds and hearts. It reminds us that we are just that- we."-Qiana Towns